As many might know, Wanindu Hasaranga and Rashid Khan are two of the most successful spin magicians. Yes! GamePlan Today Talks is about a statistically significant correlation between two of the top mystery spinners in the world.
Many people may wonder what the term "mystery spinner" means. So what does the phrase refer to? A mysterious bowler is one bowler who could turn the ball in opposite directions without changing their motion or grip.
Mystery spinners obtain their turn by flipping the ball using their middle finger most of the time. Jack Iverson of Australia would be the first mystery spinner. By flicking the curled middle finger on each side of the ball, he realized that the ball could turn in any direction.
In 1950-51, he only performed one series against England and got 21 wickets, particularly 6 for 27 in the third test. The English batters couldn't figure him out since he turned the ball both ways. The ball shall travel in the direction determined by the middle finger.
Mystery spinners won't get as much turn with all of that grip, but the uncertainty would be enough to get near edges or LBW. However, bowling such things is problematic since a bowler's fingers must be pretty powerful to drive the ball beyond 22 yards.
Mystery spinners are devastating, but they appear to wither when batters sort them out. Sonny Ramadhin of the West Indies, Ajantha Mendis of Sri Lanka, and Sunil Narine of the West Indies are renowned mystery spinners.
Let us now be back into those mystery bowlers and their initial days. Yeah! They are Wanindu Hasaranga and Rashid Khan.
Wanindu Hasaranga Initial Days:
Pinnaduwage Wanindu Hasaranga de Silva is one prominent Sri Lankan cricketer who has represented his country in all three game areas.
In July 2017, he went on to appear for Sri Lanka. Chaturanga de Silva, his older brother, has also played for the national squad.
Wanindu Hasaranga de Silva began his cricket journey at Richmond College in Galle, where he was schooled. In 2016, he was a Sri Lankan under-19 cricket squad member who competed in Bangladesh's U19 Cricket World Cup.
Hasaranga has been picked to Sri Lanka's ODI team for the upcoming series against Zimbabwe. On July 2, 2017, he made his debut appearance for Sri Lanka over Zimbabwe. He became the first Sri Lankan bowler to capture a hat-trick on introduction in an ODI when he made the final three Zimbabwe dismissals in the innings in 3 successive deliveries in his maiden match.
After South African Kagiso Rabada and Bangladeshi Taijul Islam, he became the third rookie in ODI history to score a hat-trick. But, wait! We have got more about his ODI, T20s and Test matches.
Rashid Khan's Initial Days:
Rashid Khan's professional life has been given the dramatic treatment: the drapes parted one day and saw that he was. The one player fully prepared for the grandest stage, the youthful prodigy stood across a cast of beautiful, vibrant cricketers from the country's fairy tale.
Rashid's One-Day International/ODI debut just at the age of 17, the 25 groups he has symbolized in multiple formats, his appreciation for Pakistan's Shahid Afridi, that intense, whirly action, dead-eye entirely off the mark 'un, striking capacity with the bat, athletic prowess in the field, and the ICC T20 Player of the Quarter of a century title, despite playing in only half of it, are all featured on online profiles.
Through Bati Kot to Peshawar and again to Afghanistan's Jalalabad and Kabul, before making his debut appearance in Bulawayo in October 2015 — on his road to becoming Rashid Khan, the superstar.
Every cricketer's family, coaches, and teammates watch their success with a combination of emotions: love, pride, happiness, and envy, to name a few. So does Rashid.
Wanindu Hasaranga vs Rashid Khan in Tests:
Compared to Tests Rashid and Hasaranga had played only a few Test matches. Hasaranga made his test debut at Centurion on 26th December 2020 vs South Africa. In the very first match itself, Hasaranga made the statement that he is a special bowler by picking up 4 wickets for 171 runs which include the dismissal of well-settled Faf du Plessis for 199 runs.
Still, Hasaranga is yet to make his first wicket in his home soil Sri Lanka, So far he had played two tests in Sri Lanka and bowled 61 overs and went wicketless.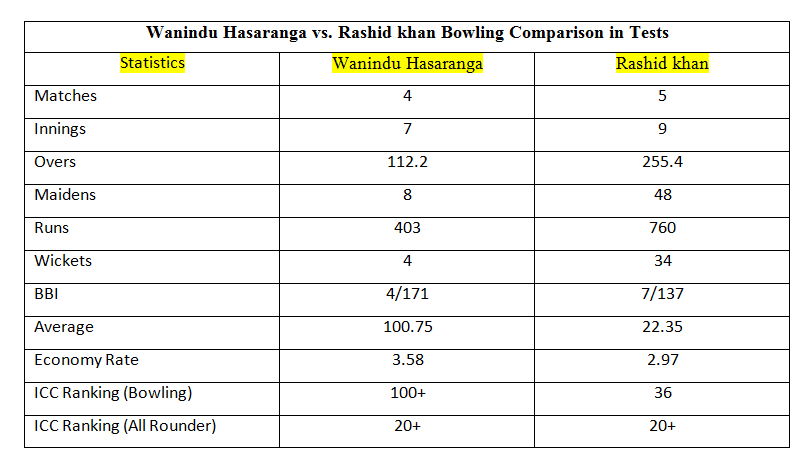 Meanwhile, Rashid Khan on the other hand had played 5 tests. Rashid's first test debut was against India in 2018. Rashid bowled most overs for his team in the very first match and took two wickets.
Along with Captaincy's duty in his second test, Rashid and his co played against Bangladesh at Chattogram 2019. Hitting half-century with a bat Rashid went on to pick 5 wickets in the first innings of the test. He picked 6 wickets in the second innings as well and created history for Afghanistan to win its first-ever international Test.
Out of 5 matches and nine innings, Rashid Khan bowled for 255.4 overs, out of which 48 were maidens earned. The runs conceded are 760, and he took 34 wickets with an average of 22.35. The economy rate is 2.97, and the bowling strike rate or BR is 45.1.
Wanindu Hasaranga vs Rashid Khan in ODIs:
Comparing the ODI stats, Rashid Khan has good numbers than Hasaranga. Rashid Khan has played a total of 80 matches and took 151 wickets. Rashid also holds the record for the fastest to take 100 wickets which he accomplished in just 44 innings.
Rashid's first debut ODI was against Zimbabwe in 2015 at Bulawayo at the age of 17.
He was given a captaincy role in ODI at the age of 19 in ICC World Cup Qualifier 2017/2018. He has produced the most wickets against Ireland and Zimbabwe that is out of his 151 ODI wickets 95 wickets came against Ireland (55) and Zimbabwe (40).
Coincidentally Hasaranga's first debut ODI was also against Zimbabwe. As mentioned earlier he picked three wickets in a match by bowling just 2.4 overs that too hattrick in his first debut ODI match.
Hasaranga was pernicious on Asian grounds and has picked 27 wickets in 23 matches.
Out of 80 matches and 76 innings, Wanindu Hasaranga bowled for 679.0 overs, out of which 28 were maidens earned. The runs conceded were 2821, and he took 28 wickets with an average of 18.68. The economy rate is 4.15, and the bowling strike rate or BR is 26.9.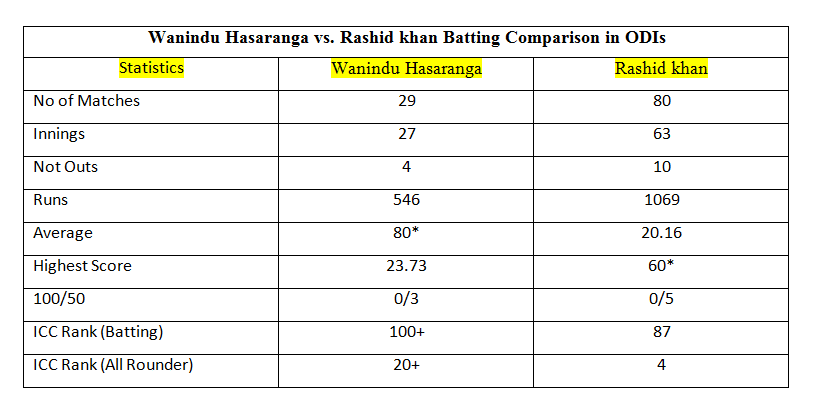 Wanindu Hasaranga vs Rashid Khan in T20s:
Hasaranga had an impressive T20 career so far, he may be one of the promising T20 players for the future of Sri Lankan cricket.
His first T20 debut was against New Zealand at Pallekele and was very impressive in the first game by picking 2 wickets for just 21 runs.
In the year 2021, Hasaranga picked 36 wickets by playing just 20 T20 Matches with an economy of just 11.63 runs per game. Hasaranga also holds the record for the 6th fastest bowler to take 50 wickets in T20 games(32 games).
Out of 35 matches and 33 innings, Wanindu Hasaranga bowled for 122.4 overs, out of which 0 overs were maidens earned. The runs conceded are 784, and he took 57 wickets with an average of 13.75. The economy rate is 6.39, and the bowling strike rate or BR is 12.9.
Rashid Khan is already a T20 legend. His unique bowling style has rattled many of the world-class top-order batsmen. He was the fourth leading wicket-taker in the T20 format by playing just 58 games and the fastest bowler to pick 100 wickets in t20 formats.
Out of 58 matches and 58 innings, Rashid Khan bowled for 219.2 overs, of which one over was maidens earned. The runs conceded are 1357, and he took 105 wickets with an average of 12.92. The economy rate is 6.18, and the bowling strike rate or BR is 12.5.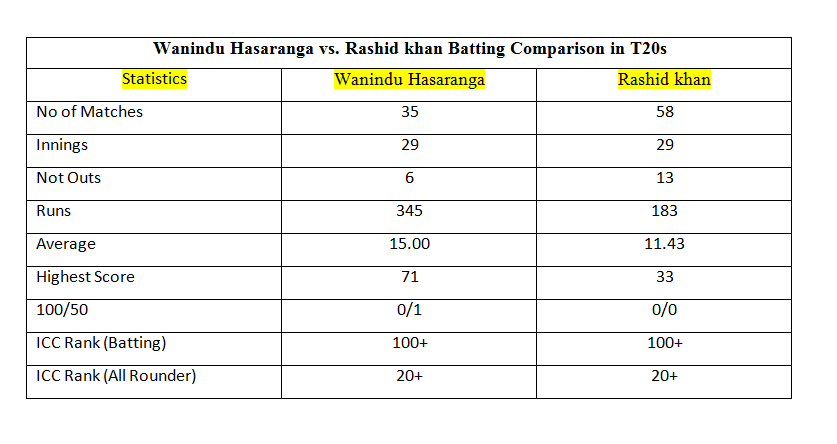 Wrapping Up:
Finally, as the statistics show, Wanindu Hasaranga and Rashid Khan have grown into outstanding hitters in various sports.
Rashid remains a dangerous bowler despite a drop in his stats in both tests and ODIs. And his T20 talents have considerably improved in both fast bowling.
Wanindu Hasaranga and Rashid Khan, competent batters and a bowler with outstanding fielding abilities, can fit comfortably into most world-class squads. He's also no longer a pick-and-chooser.
GamePlan Today Talks wants to publish a more in-depth blog on Wanindu Hasaranga and Rashid Khan in the near future. Then, in another champions blog, we'll catch up with you.