"Like any bowler, I love bowling a lot of overs. Give me 20, 30, 40 or 50 overs".

-Washington Sundar.
Washington Sundar is a 21-year-old Indian cricketer born in Chennai, Tamil Nadu. This right-arm off-break bowling all-rounder has the left arm batting style. He was the youngest player to represent India in T20 Internationals and play the IPL finals.
Sundar's elder sister
Washington Sundar has two sisters and the elder sister Shailaja is also a cricketer, who represented Tamil Nadu at the Under-19 level. While his father used to play cricket in his teenage, an ex-serviceman called P.D. Washington who lived just two streets away from their home in Triplicane, Chennai would often visit to support and encourage senior Sundar in every way possible such as paying school fee and for books.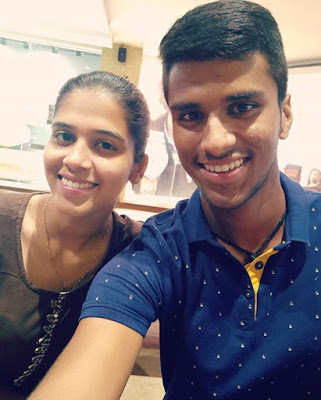 Two months after Mr. Washington had passed away, M.Sundar (Washington's father) had a son. During the naming ceremony, Mr.Sundar whispered the Hindu name Srinivasan into his son's ear but later he decided to name his son "Washington" as a mark of thanksgiving to his mentor and well-wisher.
Three hours every day in the morning
Washy's father M.Sundar always wanted to become a professional cricketer but unfortunately, he couldn't. So he started a cricket academy in Pudupet, Chennai in where Washington used to practice three hours every day in the morning before going to school.
Washington Sundar has been deaf in one ear
Since birth, Washington Sundar has been deaf in one ear. His parents came to know about this impairment only when he was 4 years old, but the doctors told them that there was no way to resolve it. Despite his impairment, he developed a love for his game of cricket in his earlier stage of his life—maybe he would have inherited his love for the game from his father.
Second-best in TNPL 2016
Initially, he started off as a batsman but he loved bowling too. So he spent most of his time focusing on his bowling under the guidance of off-spinner M.Venkataramana. He soon rose through the ranks and featured in the 2016 edition of the TNPL and finished 6th in the list of highest wicket-takers that season with the bowling average just a little above 12. He was the second-best in that league.
Washy impressed Mahendra Singh Dhoni, Steve Smith, and Ben Stokes
Washy's performance in the TNPL earned him the debut in the Ranji Trophy just a month later. But the big moment was when he got an opportunity to play in the IPL 2017. Just ahead of 2017, the frontline spinner of the Pune Super Giant's Ravichandran Ashwin had to be ruled out because of an injury. And that is when Tamil Nadu coach Rishikesh Kanika suggested the name of the young boy someone who could bowl effective right-arm spin. As a 17-year-old, he impressed Mahendra Singh Dhoni, Steve Smith, and Ben Stokes in the trial that was set up. Then he played a pivotal role in taking the Super Giants to the IPL Final.
Washington Sundar's ODI Debut:
And not long after, came the real big moment, the ODI debut in the blue jersey for team India against Sri Lanka on Dec 13, 2017; he had given 65 runs in his 10 overs and bagged the wicket of Lahiru Thirimanne. (India posted a mammoth total of 392.
Scorecard: https://www.cricbuzz.com/live-cricket-scorecard/19194/india-vs-sri-lanka-2nd-odi-sri-lanka-tour-of-india-2017).
His T20 debut is also against Sri Lanka on Dec 24, 2017, in which he took one wicket with an economy rate of 5.50.
(See: https://www.cricbuzz.com/live-cricket-scorecard/19198/india-vs-sri-lanka-3rd-t20i-sri-lanka-tour-of-india-2017)
Played 2 Matches within 9 hours Interval:
In the 2018 IPL auction, he was bagged by the Royal Challengers Bangalore for 3.2 crores and since then he has been a part of that team, even in the 2021 auction that happened recently. He proved his passion for cricket in the series against Bangladesh for team India; he wanted to finish that series as soon as possible and turned as a domestic player to play in Syed Mushtaq Ali Trophy for Tamil Nadu in just after 9 hours.
Washington Sundar: From the streets of Triplicane to The Gabba
Washy made an immediate impact in his test debut against Australia. He took 4 wickets in that match and played a crucial partnership with Shardul Thakur. Ravi Shastri, Ajinkya Rahane, the wholeteam, and the nation praised the quintet (T.Natarajan, Washington Sundar, Mohammed Siraj, Shardul Thakur, and Rishab Pant) for their magnificent performance in the 4th test against Australia that held in The Gabba, Brisbane. After this victory in The Gabba, Australia's fortress in test cricket, they have been the talk of the town.
Owning an apartment:
In the last 3 years, a lot has changed in the life of Washington Sundar from sharing a room with his sister to now owning an apartment to himself. He says that this is all because of his hard work, his dad's guidance, and by God's grace.