"If a batsman is there in front of me, I can bowl six yorkers out of six balls. I cannot practice with a cone or a shoe as a target to bowl yorkers." -T.Natarajan
Even before he started bowling yorkers, his life started delivering yorkers to him at almost every stage. Perhaps that's how he would have learned to use yorkers to attack his opponents! Stick with us to see the journey of our current sensation the yorker king Mr.T.Natarajan from Chinnappampatti to Canberra.
FAMILY:
The 29-year-old left-arm Indian pacer is hailing from Chinnappampatti, a village that is located 36 kilometers away from Salem district in Tamilnadu. He has four siblings—three sisters and a younger brother, he is the eldest. One of his sisters is married, the other two are studying, and his brother completed his studies.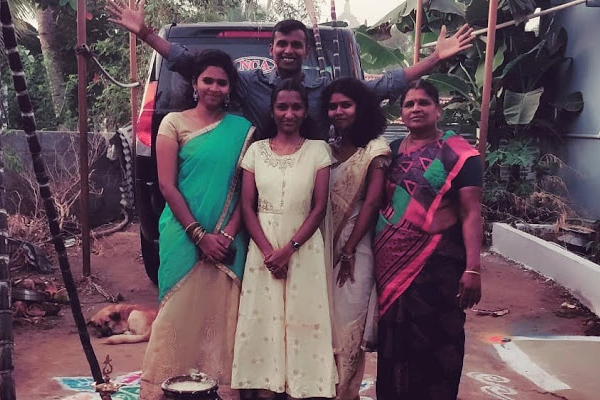 Natarajan came from really poor family background. His dad works in a power loom and his mother has a small roadside chicken shop. Being in this job, sometimes it was very hard to take care of their children for his parents. In fact, in a recent interview, his mom said that they often struggled to feed him.
JP ANNA:
Even while studying in government school the yorker king didn't have money to buy notebooks and pencils. At these times his brother (not his own brother) Jayaprakash (JP) is the one who supported him.
"JP is everything to me. He is like my godfather." -T.Natarajan
He didn't even have money to buy proper cricketing shoes, clothes, and sudden travel for training was a nightmare to him. At those times, he saved money from his local tournaments. For shoes, he completely relied on the teams to whichever he played for and he took care of those shoes so that it could last for a year. On November 7, 2020, the yorker king was blessed with a baby girl.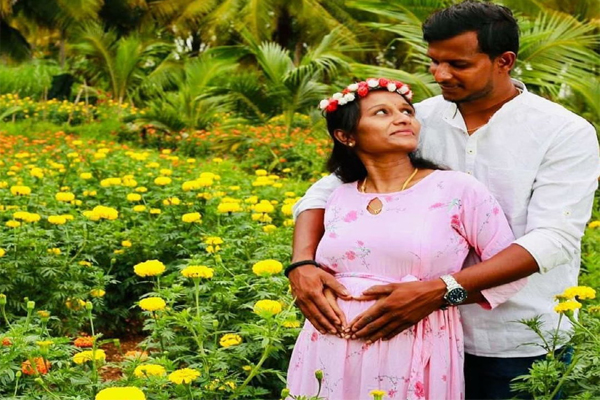 Ranji Trophy:
Obviously, life is not a bed of roses for him. He started playing tennis ball cricket in the dusty fields of the Chinnappampatti when he studied 5th standard. Initially, he used to be a ball boy and while supplying the ball to players, he often imitated a bowling style that was noticed by Jayaprakash (JP). JP was the first person to told him that he bowls at a great pace. After some days JP came to his home and told his parents that he will take care of their son and got their permission to play in the other states.
Months went on, Nattu came to know about the actual cricket ball at the age of 20 until then he was only familiar with the tennis ball. In 2011, he got a chance to play in Chennai through his brother JP. He played for the BSNL-IV division in Chennai. That is where his cricketing career was started. His aim was to play in Ranji Trophy for Tamil Nadu. Usually, everyone has to play Under 16, Under 19, Under 23 and only then get to play Ranji Trophy. But luckily he played in Ranji Trophy directly.
Suspected bowling action:
In 2014, he was happy when he got selected for Ranji Trophy because he was the one who got selected after 28 years from Salem. But that happiness didn't last long, soon after his debut game, he was called for suspect bowling action. He was very depressed at that point of time because yet struggled for the whole year still he was not tasted the victory. It was really hard for him to correct the bowling action and make a comeback. In fact, during this process he had faced a lot of discomfort and injuries. Usually, he is a mentally strong person but that year shattered him like nothing else. Somehow motivation from people helped him to boosts his confidence.
comeback game in TNPL with yorkers:
Natarajan, the yorker king, came to the limelight at his comeback game in TNPL. That's the year he was bought by Kings XI Punjab (KXIP) in the 2017 auction. It was a blend of happy and scared feelings at the same time for him. Because he thought that he would be picked at the base price but they bought him for whopping 3 crores, so there was a lot of pressure on him. Out of 6 games he played in his debut IPL season, he only picked up 2 wickets. The following year just before Ranji Trophy he had to undergo elbow surgery. Due to this surgery, he missed all state matches and any other games except TNPL that year. He was miserable about another setback in his life.
Lesson form Legends:
That's when Sunrisers Hyderabad (SRH) team bought him in 2018 auction for the base price of 40 lakhs. Again he was very happy about it because there were many experienced bowlers like Bhuvneshwar Kumar from whom he can learn. Even though in the first year, Muttiah Muralitharan taught him a lot of things, he felt disappointed about his rejections in the first two years. Later which Bhuvi came to him and told him to learn more and not to feel disappointed as these things happen in cricket, he got some relief. Even VVS Laxman, the SRH batting coach, believed in him and motivated him to bowl more yorkers.
"The SRH coaches asked me to do exactly what I did in TNPL and Ranji Trophy," says Natarajan. For the next two years he played Ranji Trophy very well. He played in all three formats in 2019. Finally, in 2020 IPL, he got a chance to play for SRH. He utilized that opportunity very well and bowled lot of yorkers. Out of sixteen matches he played, he bagged 16 wickets. In fact, he bowled astonishing 5 yorkers in an over against Delhi Capitals, which helped SRH register their first win. Yet picking up main wickets such as ABD and Dhoni, he remained calm and composed.
Chinnappampatti to Canberra:
In 2021, he went along with Indian players to Australia as a net bowler. Due to the injuries of few main bowlers he had to make his International debut in the 3rd ODI against Australia on December 2 in Canberra. The soft-spoken lad impressed with his immediate impact in that particular match. Soon after this he got into the T20 and test match cricket as well.
"Welcome to Test cricket … Thangarasu Natarajan becomes the first Indian player to make his International debut across all three formats during the same tour," the ICC tweeted.
Free Coaching Academy:
JP and Nattu have always dreamt of starting a cricket academy. So he started a free coaching academy to bring cricket to people in and around his village (For any inquiries, call 093616 74040). There are 50 to 60 people taking training in that center. Many of the players from that academy started playing in the Chennai league and TNPL. One among them is Periyasamy, a 25-year-old fast bowler who bagged all the awards for bowlers in 2019 TNPL.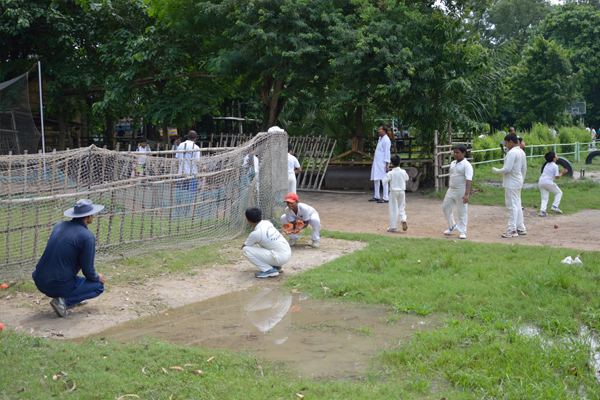 He doesn't think he can give any more happiness to his parents than this. He actually now feeling proud about his achievements. Financially it was tough earlier but now he is taking care of his family and he has told his siblings to study whatever they wish. All the way through his journey, Nattu never failed to show his gratitude towards JP. He gave respect to JP by putting his name before his own name in the SRH jersey. He also had JP's name as a tattoo on his hand.
The yorker king accepted all ups and down in his life journey and worked hard. He considers his tennis ball tournaments a big plus. His advice for a passionate cricketer is, "set small goals and try to achieve them. The bigger goals will start following you. Whichever field it is, work hard and you will reach your goal".
Author: Gowtham_Raj.