The Match 37 of Byju's Pondicherry T10 between Warriors and kings is scheduled  to be played today at 01:30 PM.
After playing 9 matches, warriors are 3rd in the points table with 4 wins and 4 losses.
Kings playing 8 matches had won three matches and lost three and positioned at 6th place in the points table.
Match Date & Time : 31.05.2022 & 01:30 PM
Weather Analysis:
The match is scheduled to be played at Puducherry Siechem ground, Puducherry, India
 According to weather.com there will be 39% cloud cover during the match today and no chances for rain today.
Pitch Report:
The pitch is a bowling pitch and best suited for pace bowlers
Team winning the toss and opts to bowl  first have won 60 % of the matches at this venue in the last 5 matches. Average first innings score at this venue is 80.
Based on last 5 matches, team batting second has won 4 matches and team batting first has won only one match at this venue.
WAR  Batting Player stats
Yash Avinash Jadhav the leading run scorer for Warriors in the last three games. The right handed opening batsmen has scored 57 runs in the last three games.
Paras Ratna Parkhe has played well against Titans in the previous game and is expected to continue the same form with a bat today as well.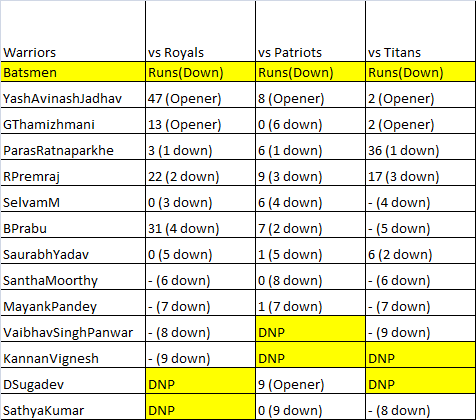 WAR  Bowling player stats
Mayank Pandey is the pick of the bowler for WAR in the last three matches. The right arm fast bowler has picked 4 wickets in last three games alone.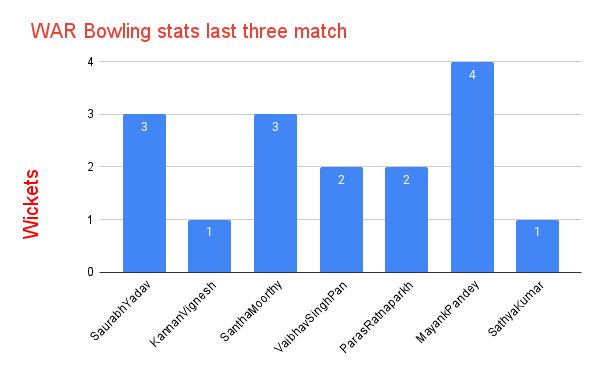 The next valuable bowlers from WAR are Saurabh Yadav (Right arm fast medium) and Santha Moorthy ( Right arm fast medium).
They both are bowling 2 over regularly in every match and is expected to pick wickets in today's match as well.
KGS Batting player stats
A Kamaleeshwaran is the best batsmen from KGS lineup and has scored a total of 74 runs in last three matches.He has scored a half century against Smashers on 28th May 2022.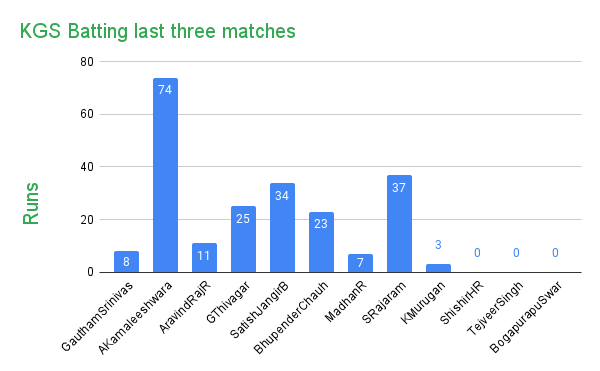 Other than A kamaleeshwaran no other batsmen has scored any big runs for the team in the last three games.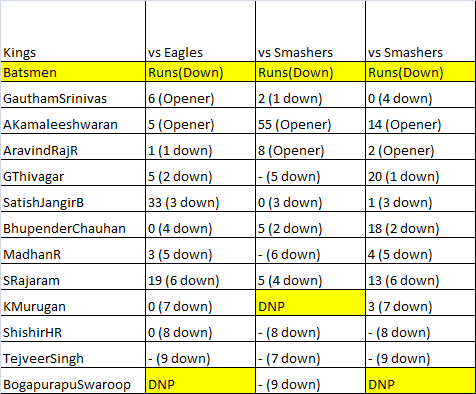 Also Visit here for more player stats
KGS   Bowling Player stats
A Kamaleeshwaran is leading in the bowling unit as well for KGS team. He has picked a total of 4 wickets in last two matches played. Additionally, he is bowling two over regularly in every match.
The next important key bowler for KGS is S Rajaram, the right arm pace bowler is bowling two over in almost every match and is picking wickets at regular intervals of time.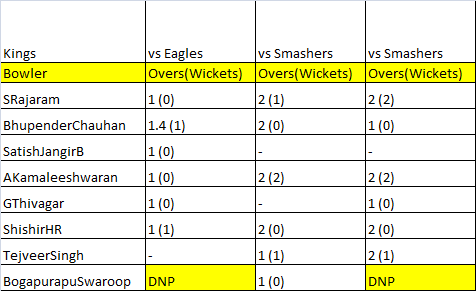 WAR  last 3 match Stats
Win ,Loss, Win
Royals vs Warriors (26th May 2022)
Warriors won by 5 wickets
Patriots vs Warriors (29th May 2022)
Patriots won by 6 wickets
Titans vs Warriors (30th May 2022)
Warriors won by 7 wickets
BAW  last 3 match stats
Loss , Win, Loss
Eagles vs Kings (26th May 2022)
Eagles won by 8 wickets
Smashers vs Kings (28th May 2022)
Kings won by 1 runs
Smashers vs Kings (28th may 2022)
Smashers won by 4 wickets
Who will win today's T10 match between WAR  vs KGS ?
Out of last three games played BAW has won only one game.WAR on the other side has won two games in their last three matches. Kings only one win was a close victory  vs smashers.
Warriors are quite strong team when compared to Kings and therefore warriors are expected to win this game.
Gameplantoday Dream11 Team WAR  vs KGS:
Wicketkeeper: Y.Avinash Jadhav
Batsmen: R.Premraj, G.Tivagar, A.Kamaleeshwaran
All Rounder: B. Chauhan, P Ratnaparkhe ,S Rajaram, S Santhamoorthy
Bowler: M.Pandey, S.Yadav-I,T singh
WAR vs KGS  dream11 Captain & Vice Captain Picks:
Captain: A.Kamaleeshwaran
Vice Captain: B. Chauhan