Match Preview
Team: Seattle Storm W vs Washington Mystics W (USA: WNBA)
Date & Time : 24.06.2022 & 07:30 AM
SEA expected Starting lineup
StewartB.
WilliamsG.
MagbegorE.
BirdS.
LoydJ.
SEA previous week player stats.
WAS expected Starting lineup
ClarkA.
Hines0AllenM.
AustinS.
AtkinsA.
CloudN.
WAS previous week player stats.
SEA last 5 match stats
Won, Won, Won,Lost, Won
WAS last 5 match stats
Lost, Won,Lost,Won,Lost
SEA last three match player stats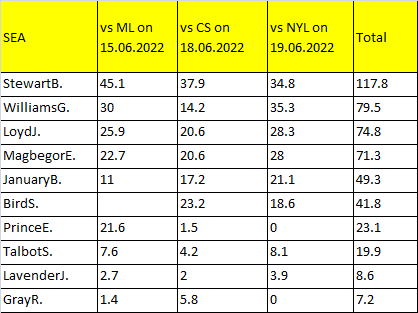 For Point Guard Positions Gameplantoday suggest three players.First choice is N Cloud form WAS team,she is the star player for WAS and has scored 102.9 dream11 points in last three matches.she will guarantee you 30+ dream11 points in every match.
S Bird and B January are the other two top players in this position for SEA.They both are quality players and we suggest to go with both of them for tomorrow's dream11 match.
For Shooting Guard position we has filtered two players,one from SEA and another from WAS.Atkins from WAS is the best player in this position and has scored 80.5 dream11 points in last three matches.
J Loyd from SEA with a credit score of 13.5 will be a good choice for your dream11 team as she can assure your team a minimum of 25 points.
For Small Forward position gameplantoday suggest A Clark.For Power Forward B Stewart is the undoubtedly the best player and is the compulsory player for tomorrows dream11 team.
E williams for Centre position is a key player for our dream11 team tomorrow.If she performs well then chances of your team winnings a big contest is very high.
WAS last three match player stats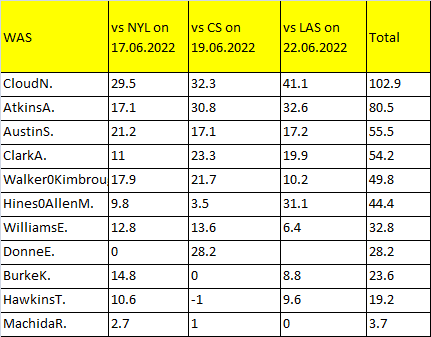 SEA vs WAS Point-Guard last three match dream11 points
| | | | | |
| --- | --- | --- | --- | --- |
| Name | M1 | M2 | M3 | Total |
| CloudN. | 29.5 | 32.3 | 41.1 | 102.9 |
| JanuaryB. | 11 | 17.2 | 21.1 | 49.3 |
| BirdS. | | 23.2 | 18.6 | 41.8 |
| BurkeK. | 14.8 | 0 | 8.8 | 23.6 |
SEA vs WAS Shooting-Guard last three match dream11 points
| | | | | |
| --- | --- | --- | --- | --- |
| Name | M1 | M2 | M3 | Total |
| AtkinsA. | 17.1 | 30.8 | 32.6 | 80.5 |
| LoydJ. | 25.9 | 20.6 | 28.3 | 74.8 |
| PrinceE. | 21.6 | 1.5 | 0 | 23.1 |
| MachidaR. | 2.7 | 1 | 0 | 3.7 |
SEA vs WAS Small-Forward last three match dream11 points
| | | | | |
| --- | --- | --- | --- | --- |
| Name | M1 | M2 | M3 | Total |
| ClarkA. | 11 | 23.3 | 19.9 | 54.2 |
| Walker0KimbroughS. | 17.9 | 21.7 | 10.2 | 49.8 |
| TalbotS. | 7.6 | 4.2 | 8.1 | 19.9 |
| GrayR. | 1.4 | 5.8 | 0 | 7.2 |
SEA vs WAS Power-Forward last three match dream11 points
| | | | | |
| --- | --- | --- | --- | --- |
| Name | M1 | M2 | M3 | Total |
| StewartB. | 45.1 | 37.9 | 34.8 | 117.8 |
| WilliamsG. | 30 | 14.2 | 35.3 | 79.5 |
| DonneE. | 0 | 28.2 | | 28.2 |
| HawkinsT. | 10.6 | -1 | 9.6 | 19.2 |
SEA vs WAS Centre last three match dream11 points
| | | | | |
| --- | --- | --- | --- | --- |
| Name | M1 | M2 | M3 | Total |
| MagbegorE. | 22.7 | 20.6 | 28 | 71.3 |
| AustinS. | 21.2 | 17.1 | 17.2 | 55.5 |
| Hines0AllenM. | 9.8 | 3.5 | 31.1 | 44.4 |
| WilliamsE. | 12.8 | 13.6 | 6.4 | 32.8 |
| LavenderJ. | 2.7 | 2 | 3.9 | 8.6 |
SEA vs WAS Dream11 Match Prediction
PG- B January, S Bird, N Cloud
SG- J Loyd, A Atkins
SF- A Clark
PF- B Stewart
C- E Williams
SEA vs WAS dream11 Star Player and Pro Player
Star Player- B Stewart
Pro Player- N Cloud