The Match 39 of Fancode ECS Czech Republic between Moravian CC vs Prague Barbarians is scheduled to be played today at 04:30 PM
| | | | | | | |
| --- | --- | --- | --- | --- | --- | --- |
| Rank | Team | Played | Won | Lost | NRR | Points |
| 1 | PRT | 8 | 5 | 3 | 1.121 | 10 |
| 2 | PRS | 6 | 4 | 2 | 1.445 | 8 |
| 3 | VCC | 6 | 3 | 3 | 0.345 | 6 |
| 4 | PRB | 6 | 3 | 3 | -0.269 | 6 |
| 5 | MCC | 6 | 1 | 5 | -3.216 | 2 |
Match Date & Time : 09.06.2022 & 04:30 PM
Weather Analysis:
The match is played at Vinor Cricket Ground, Prague, Czech Republic. According to weather.com light rain may interrupt during the match today. The expected rainfall amount may be 0.52 mm.
MCC vs PRB player stats with top run scorers and wicket takers list
Pitch Report:
The pitch is a overall a bowling pitch and best suited for pace bowlers.
Team winning the toss and opts to bowl first have won 100 % of the matches at this venue in the last 5 matches. Average first innings score at this venue is 73.
MCC  Batting Player stats
Dheeraj Thakur from MCC has played well in the previous game vs Prague Spartans. He has scored 35 runs in that match.He is expected to continue the same form with a bat  today as well.
Akshay Babu is an another batsmen who is currently in a good touch with a bat.
Batting at second down position Akshay Babu has scored 39 runs vs Vinohrady on 8th June.He is an right arm wicket keeper batsmen.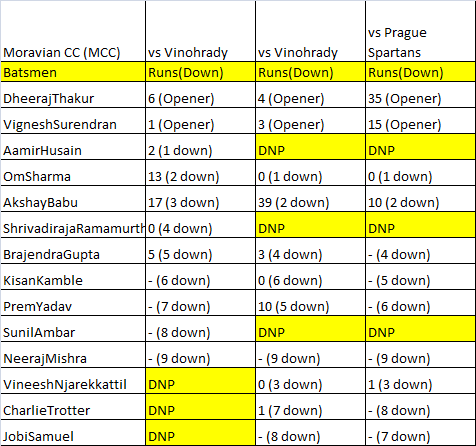 MCC  Bowling player stats
On viewing the MCC last three match bowling analysis graph below, Prem Yadav is the leading wicket taker for MCC in last three matches.
Moreover, he is bowling 2 over regularly in every match and picking wickets as well.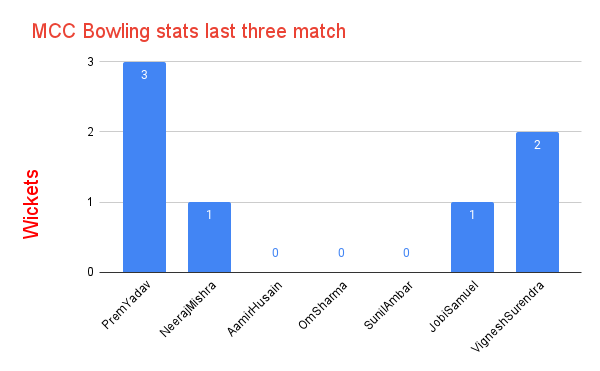 Neeraj Mishra is an another key bowler for MCC. Though the right arm fast bowler has picked only one wicket in last three games, he has  good bowling technique and can produce more wickets in the upcoming matches.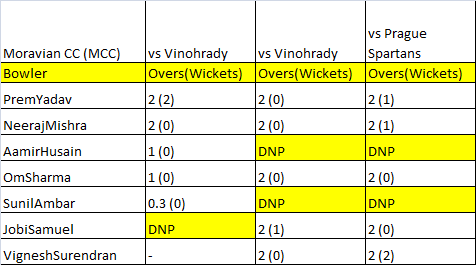 PRB Batting player stats
Jahanur Hoque is the leading run taker for PRB considering all the last three matches. He has scored a total of 60 runs in just two games. The right handed opener has scored 48 runs vs Prague Tigers on 7th June.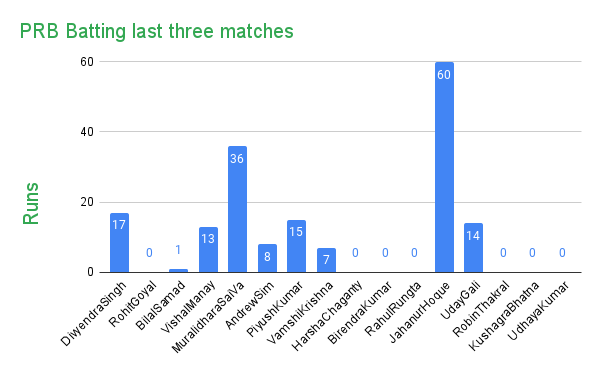 Other than Jahanur Hoque no other batsmen has scored any remarkable runs for PRB in the last three games.
You can use the last three match player stats image below to check out the batting position and runs of the batsmen for PRB in last three games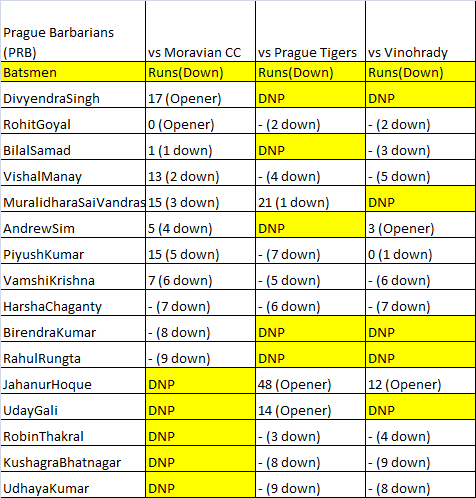 PRB   Bowling Player stats
Harsha Chaganty is leading the PRB bowling unit in the last three games. He is the key bowler for PRB.He is an right arm medium pacer will bowl two over regularly in every match.
Piyush Kumar is another important bowler to watch out for PRB in today's game. He has picked only one wicket in the tournament so far but has an ability to produce more wickets.
MCC  last 3 match Stats
Lost,Lost,Lost
Moravian CC vs Vinohrady CC (7th June 2022)
Vinohrady CC won by 8 wickets.
Vinohrady vs Moravian CC (8th June 2022)
Vinohrady CC won by 27 runs.
Prague Spartans vs Moravian CC (8th June 2022)
Prague Spartans won by 49 runs.
PRB  last 3 match stats
Lost,Won,Won
Prague Barbarians vs Moravian CC (6th June 2022)
Moravian CC won by 8 wickets.
Prague Barbarians vs Prague Tigers (7th June 2022)
Prague Barbarians CC won by 22 runs.
Vinohrady CC vs Prague Barbarians (7th June 2022)
                      Prague Barbarians CC won by 5 runs.
Who will win today's T10 match between MCC  vs PRB ?
Based on the last three match stats above it is clear that MCC are struggling hard in the tournament and has won only one match out of 6 matches.
PRB on the other side has a pretty decent record by winning 3 matches out of six matches. Also, PRB has won 2 matches in their last 3 games played.
Considering all the above facts PRB are expected to win this match.
Gameplantoday Dream11 Team MCC  vs PRB:
Wicketkeeper: D Thakur, A Babu
Batsmen: J Hoque, O Sharma, V Surendran, R Goyal
All Rounder: P yadav
Bowler: P Kumar, H Chaganty, V Krishna, N Mishra
MCC  vs  PRB dream11 Captain & Vice Captain Picks:
Captain: J Hoque
Vice Captain: P yadav