GamePlan Today welcomes you to predict the results of 2 matches. We throw you some luck through our predictions.
The Hundred Men Series & BYJU's Pondicherry T20 – Live Predictions
GamePlan Today will discuss
One will be the Hundred Series match between the Northern Supercharges & Birmingham Phoenix. Another will be the match between Sharks XI & Bulls XI.
NOS vs BPH Match Details
The Hundred Series Men's match between NOS & BPH will be matched 31 of this tour.
Date: 17th August 2021
Day: Tuesday
Time: 11.00 PM IST
The venue is Headingley Leeds of England.
NOS is spotted in the 5th position in the points table holding 3 wins & 3 losses out of 7 matches. They own 7 points now.
BPH team is now standing in the 2nd position. They own 5 wins besides 2 losses from 7 of their matches. They hold 10 points to second top the points table.
The key players in the NOS team are Dane Vilas, John Simpson, and Steve Finn.
Dane Vilas is NOS's leading run-scorer who had hit a strike of 36 runs. John Simpson is yet another run taker with 28 runs and a strike rate of 253.57. Steve Finn is one of the best bowlers for the NOS team. He had dismissed 2 wickets through his bowling skills.
The key players in the BPH team are Finn Allen, Liam Livingston, and Sam Cook.
Finn Allen is BPH's top run-scorer. He had scored around 29 runs in his matches. Liam Livingston also contributed 50 runs with a strike rate of 161.29. Sam Cook is BPH's best bowler. He had picked up 2 wickets in his matches.
NOS vs BPH Pitch Report
GamePlan Today suggests that the pitch will be favoring both spinners and batters this time.
NOS Player stats
BPH Player stats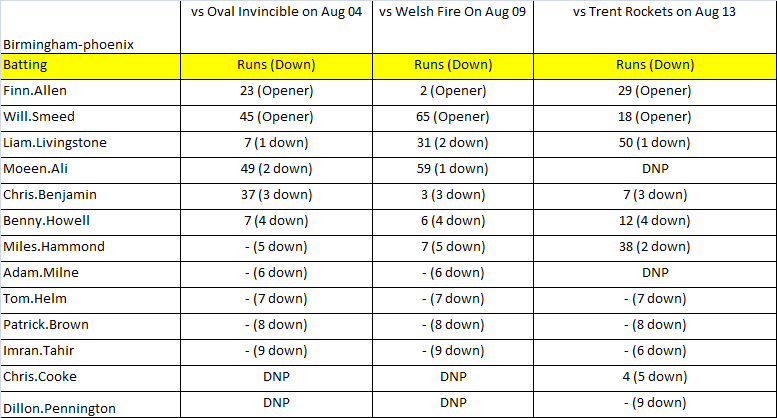 GamePlan's analogy predicts the BPH has got more chances to rule its victory over the NOS team.
SHA vs BUL Match Details
The Sharks XI will be locking horns against Bulls XI. It will be the 18th match of this league.
Date: 18th August 2021
Day: Wednesday
Time: 03.30 PM IST
The venue is Puducherry's Siechem Ground.
Sharks XI settles in 3rd position with 3 wins and 3 losses out of their 6 matches in this league. The SHA has got 12 points.
Bulls XI now stand in the points table's 5th spot. They own 2 wins besides 5 losses out of their 7 matches. BUL holds 8 points.
The key players for SHA are Logesh P and S Santhosh Kumaran.
Logesh P is the top run-scorer for the SHA XI team. He had secured 85 runs in this league. S Santhosh Kumaran is SHA's bowler who had picked 2 wickets in his last match.
The key players for BUL are Karthik S and Vignesh E.
Karthik S is BUL's fastest run-scorer with 87 runs in the league. Vignesh E the fastest bowler of BUL's team had dismissed 2 wickets in his last matches.
SHA vs BUL Pitch Report
GamePlan Today's analogy predicts that the pitch in Puducherry will provide fresh wickets for spinners. Batsmen will be favored in initial overs.
SHA Player stats
BUL Player stats
GamePlan Today expects both teams to perform the best. It is predicted that Sharks XI will be conquering its victory over Bulls XI.
Stay connected with GamePlan Today to get more updates for your predictions.