Match Preview
Teams :Dallas Wings W vs Indiana Fever W
Date & Time :24.06.2022 & 05:30 AM
DAL expected Starting lineup
GrayA.
ThorntonK.
HarrisonI.
OgunbowaleA.
MabreyM.
DAL previous match stats is available here.
IND expected Starting lineup
ViviansV.
SmithN.
EgboQ.
MitchellK.
RobinsonD.
IND previous match player stats is available here.
DAL last 5 match stats
Lost, Lost, Won, Won, Lost
IND last 5 match stats
Lost, Lost, Won,Lost, Won
Our latest dream11 match predictions.
DAL last three match player stats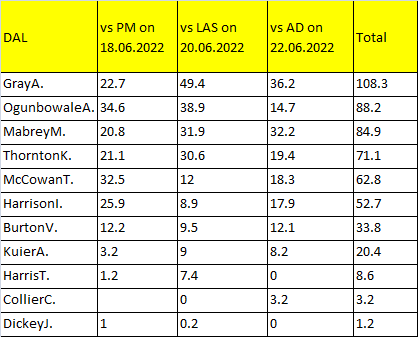 Gameplantoday suggests 4 player from Dallas Wings W.
M Mabrey will be good choice for Shooting Guard position.Though A Ogunbowale is the best player in this position,her credit score in dream11 fantasy prediction app is 17 and will be a costly pick for tomorrows match.So,instead of her we prefer M Mabrey for Shooting guard position.
A Gray has scored 108.3 dream11 points in last three matches.A Gray is the top player in small forward position and she has been in good from for the last three matches and expected to continue the same form tomorrow as well.
For Small Forward position N Smith (IND team) and K Thronton(DAL Team) are two best players and gameplantoday suggest to go with both the players for tomorrows dream11 team.
For Centre position T McCowan is the best player and with the credit score of just 5 in dream11 fantasy app she has scored 62.8 dream11 points and is expected to score 15+ dream11 points for tomorrows match.
IND last three match player stats
We Suggest 4 players from IND team.D Robinson is our preference for Point Guard position.She is the second best player in this position and has scored 60.3 dream11 points.
The other two picks are from the Small Forward position,V Vivians and T Mitchell.They both are good players with average credit score.
N Smith is the top player from IND and can guarantee you 35+ dream11 points in every match.
DAL vs IND Point-Guard last three match dream11 points
| | | | | |
| --- | --- | --- | --- | --- |
| Name | M1 | M2 | M3 | Total |
| MitchellK. | 26.4 | 33.9 | 33.7 | 94 |
| RobinsonD. | 31.8 | 15.6 | 12.9 | 60.3 |
| BurtonV. | 12.2 | 9.5 | 12.1 | 33.8 |
| HullL. | | 6.2 | 20.1 | 26.3 |
| HarrisT. | 1.2 | 7.4 | 0 | 8.6 |
DAL vs IND Shooting-Guard last three match dream11 points
| | | | | |
| --- | --- | --- | --- | --- |
| Name | M1 | M2 | M3 | Total |
| OgunbowaleA. | 34.6 | 38.9 | 14.7 | 88.2 |
| MabreyM. | 20.8 | 31.9 | 32.2 | 84.9 |
| HendersonD. | 4.7 | 8.7 | 13.8 | 27.2 |
| HartleyB. | 0 | | | 0 |
DAL vs IND Small-Forward last three match dream11 points
| | | | | |
| --- | --- | --- | --- | --- |
| Name | M1 | M2 | M3 | Total |
| GrayA. | 22.7 | 49.4 | 36.2 | 108.3 |
| ViviansV. | 31.9 | 29.5 | 11.3 | 72.7 |
| MitchellT. | 13.2 | 7.9 | 12 | 33.1 |
| DickeyJ. | 1 | 0.2 | 0 | 1.2 |
DAL vs IND Power-Forward last three match dream11 points
| | | | | |
| --- | --- | --- | --- | --- |
| Name | M1 | M2 | M3 | Total |
| SmithN. | 50.8 | 19.3 | 38.7 | 108.8 |
| ThorntonK. | 21.1 | 30.6 | 19.4 | 71.1 |
| EngstlerE. | 12.6 | 16.4 | 23.8 | 52.8 |
| HarrisonI. | 25.9 | 8.9 | 17.9 | 52.7 |
DAL vs IND Centre last three match dream11 points
| | | | | |
| --- | --- | --- | --- | --- |
| Name | M1 | M2 | M3 | Total |
| McCowanT. | 32.5 | 12 | 18.3 | 62.8 |
| EgboQ. | 17.1 | 30.2 | 7.4 | 54.7 |
| CannonE. | 0 | 7.6 | 14.6 | 22.2 |
| KuierA. | 3.2 | 9 | 8.2 | 20.4 |
| CollierC. | | 0 | 3.2 | 3.2 |
DAL vs IND Dream11 Match Prediction
PG- D Robinson
SG- M Mabrey
SF- A Gray, T.Mitchell, V Vivians
PF- K Thornton, N Smith
C- T McCowan
DAL vs IND dream11 Star Player and Pro Player
Star Player- A Gray
Pro Player- N Smith