The match number 15 of European Cricket Series ECS T10 Stockholm between Botkyrka and Linkoping CC is to be played today at 4:30 PM.
Match Date & Time :19.05.2022 & 04:30 PM
Weather Analysis:
The match is to be played at Norsborg Cricket Ground, Stockholm. As per Weather.com the chances of rain is very low,but there will 49% of cloud cover and temperature will be at 19 degree Celsius.
Pitch Report:
The pitch is mostly suited for bowlers and will support both spin and pace bowling. Based on the last 5 matches average 1st Innings score at this venue is 84.
BOT  Batting Player stats
Shani Khawaja for BOT is good with the bat in the last three innings played.He scored 82 runs in last three games for BOT.
Zeeshan Mahmood,batting as an one down batsmen has scored 48 runs against Stockholm on 19th May 2022.
BOT  Bowling player stats
Muhammad Tarar is the leading wicket taker for BOT in the last three T10 matches played.The Right Arm fast bowler has scored 5 wickets in the last three games.
Zeeshan Mahmood is also contributing in bowling as well for BOT. Being a right arm medium fast bowler he has picked 4 wickets in last two games against Stockholm.
LKP Batting player stats
Roohul Halim is the top pick batsmen for LKP CC.He was the top scorer for LKP in the last two matches played.The right arm batsmen has also scored a half century in the previous game against Stockholm.
Other than R.Halim no other batsmen looks good with the bat. Chittesh Ravichandran, the Left arm batsmen is a good choice to go with another batsmen for LKP as he has scored 43 runs in just two games for LKP.
Also View LKP's Batting and Bowling Analysis for Previous Matches.
LKP Bowling Player stats
There was three important chances in LKP's bowling department on Yesterday's game against Stockholm.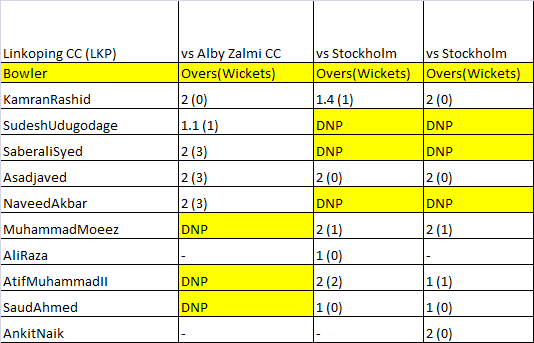 Asad Javed, the right arm medium pace bowler is consistently bowler 2 overs in every match and has picked few wickets as well.
Considering the new bowlers, Muhammad Moeez and Atif Muhammad II are the good options to go with for today's match vs BOT.  
BOT last 3 match Stats
Loss , Win , Win
Alby Zalmi won by 6 wickets
Botkyrka won by 50 runs
Botkyrka won by 7 Wickets
LKP last 3 match stats
Loss, Loss , Win
Alby Zalmi won by 1 runs,
Stockholm CC won by 5 wickets.
Linkoping CC won by 9 wickets.
Who will win today's T10 match between BOT vs LKP?
LKP out of 6 games has won 3 games and ranks second in the points table.
BOT has played only 4 games in the tournament and won 2 games and ranks third in the points table
Considering the last three match stats BOT has won last two games comprehensively and expected  be in more confident in today's match as well. So BOT has more chances of winning this match.
Gameplantoday Dream11 Team BOT  vs LKP:
Wicketkeeper: S.Khawaja , R. Halim
Batsmen: Z.Mahmood, A. Javed , C.Ravichandran
All Rounder: M.Moeez, M.Tarar, I.Merchant
Bowler: O.Qureshi, K. Rashid, A Muhammad-II.
BOT vs LKP Captain & Vice Captain Picks:
Captain: M.Tarar
Vice Captain: Z.Mahmood