Match Preview
Teams : Beerman vs Barangay (Philippine Cup)
Date & Time : 24.06.2022 & 03:30 PM
BEE expected Starting lineup
BrondialR.
FajardoJ.M.
LassiterM.
PerezJ.
RossC.
BAR expected Starting lineup
AguilarJ.
StandhardingerC.
TenorioL.
ThompsonS.
TolentinoA.
Our Latest predictions for today dream11 matches.
BEE last 5 match stats
Won, Loss, Won, Won, Won
BAR last 5 match stats
Won, Won, Won, Lost, Won
BEE last three match player stats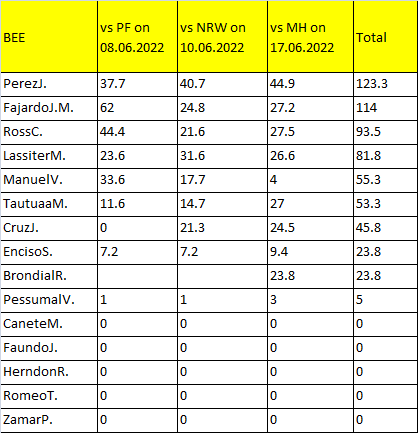 For Point Guard position gameplantoday suggests three players named,N John Pinto, M Lassiter and J Perez I.
Off these three J Perez I is the top player and has scored 123.3 dream11 points in the last three games.Furthermore he has scored two 40+ scores consecutively in last two games.
M Lassiter from BEE for Point Guard will be a good choice for todays match.He is so consistent and will score a minimum of 25 points in every match.
The third player is John Pinto because of his credit score in dream11 fantasy app.Though he has played only one match, he has scored 20 points, so he will be a good option for today's dream11 team.
For Shooting Guard position we suggest S Thompson from BAR,he is the top player for BAR and has scored 109.9 dream11 points in the last three games.
We recommend to go for C Ross from BEE for Shooting Guard position.He is equally a good player when compared to S Thompson.
The other three players gameplantoday suggests are J Chan for Small forward position and J Aguilar for Power Forward Position and M Tautuaa from Centre position.
BAR last three match player stats
BEE vs BAR Point-Guard last three match dream11 points
| | | | | |
| --- | --- | --- | --- | --- |
| Name | M1 | M2 | M3 | Total |
| PerezJ. | 37.7 | 40.7 | 44.9 | 123.3 |
| LassiterM. | 23.6 | 31.6 | 26.6 | 81.8 |
| TenorioL. | 18.7 | 19.5 | 26.2 | 64.4 |
| PintoN. | | | 20.8 | 20.8 |
| DavidJ. | 2.2 | | 3 | 5.2 |
| RomeoT. | 0 | 0 | 0 | 0 |
| ZamarP. | 0 | 0 | 0 | 0 |
BEE vs BAR Shooting-Guard last three match dream11 points
| | | | | |
| --- | --- | --- | --- | --- |
| Name | M1 | M2 | M3 | Total |
| ThompsonS. | 38.2 | 31.1 | 40.6 | 109.9 |
| RossC. | 44.4 | 21.6 | 27.5 | 93.5 |
| CruzJ. | 0 | 21.3 | 24.5 | 45.8 |
| PringleS. | 23.4 | 8 | | 31.4 |
| MarianoA. | 4.2 | 4.4 | 9.8 | 18.4 |
| HerndonR. | 0 | 0 | 0 | 0 |
BEE vs BAR Small-Forward last three match dream11 points
| | | | | |
| --- | --- | --- | --- | --- |
| Name | M1 | M2 | M3 | Total |
| ManuelV. | 33.6 | 17.7 | 4 | 55.3 |
| ChanJ. | 2.9 | 10.9 | 8 | 21.8 |
| PessumalV. | 1 | 1 | 3 | 5 |
| OnwubereS. | 0.2 | | | 0.2 |
| CaneteM. | 0 | 0 | 0 | 0 |
| FaundoJ. | 0 | 0 | 0 | 0 |
BEE vs BAR Power-Forward last three match dream11 points
| | | | | |
| --- | --- | --- | --- | --- |
| Name | M1 | M2 | M3 | Total |
| AguilarJ. | 36.9 | 18 | 37.9 | 92.8 |
| TolentinoA. | 17.8 | 13.8 | 25.1 | 56.7 |
| EncisoS. | 7.2 | 7.2 | 9.4 | 23.8 |
| BrondialR. | | | 23.8 | 23.8 |
BEE vs BAR Centre last three match dream11 points
| | | | | |
| --- | --- | --- | --- | --- |
| Name | M1 | M2 | M3 | Total |
| FajardoJ.M. | 62 | 24.8 | 27.2 | 114 |
| StandhardingerC. | 43.8 | 32.5 | 24.8 | 101.1 |
| TautuaaM. | 11.6 | 14.7 | 27 | 53.3 |
| CaperalP. | 6.7 | 15.2 | 5.9 | 27.8 |
BEE vs BAR Dream11 Match Prediction
PG- N John Pinto, M Lassiter, J Perez I
SG- S Thompson, C Ross
SF- J Chan
PF- J Aguilar
C- M Tautuaa
BEE vs BAR dream11 Star Player and Pro Player
Star Player- J Perez-I
Pro Player-S Thompson