Match Preview
Teams: Batang Pier vs Manila Bolts (Philippine Cup)
Date & Time : 23.06.2022 & 02:45 PM
BB expected Starting lineup
BalanzaJ.
BolickR.
CalmaJ.M.
MalonzoJ.
SantosA.
MAN expected Starting lineup
AlmazanR.
BancheroC.
HodgeC.
MaliksiA.
NewsomeC.
Our Latest dream11 fantasy predictions.
BB last 5 match stats
Lost, Won, Won, Lost, Lost
MAN last 5 match stats
Lost, Lost, Won, Won, Lost
BB last three match player stats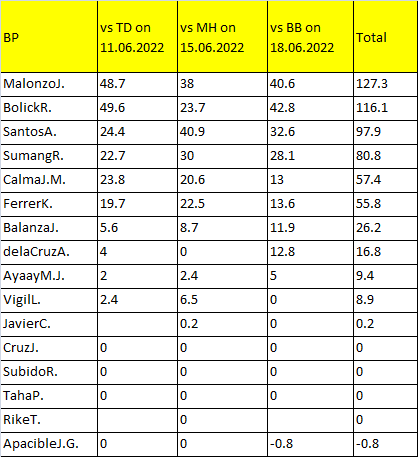 Gameplantoday suggest 5 player from the team BP for your Dream11 team.
R Bolick and S Roi Sumang are the two player from point guard position,R Bolick is one of the top player from BP and has scored 116.1 dream11 points in last three games alone.
Sumang with a credit score of just 8 in dream11 app will be a good option and will guarntee you 25+ points.
K Ferrer is the seccond best option in Shooting guard position after C Newsome.As we cannot pick Newsome because of his credit score,gameplantoday suggest K Ferrer for this position
A Santos is the top player in Small Forward position so gameplantoday suggest him for this position
J Malonzo is the best player comparing both BP and MAN and has scored 127.3 dream11 points.He will be a good choice for Centre position
Cricket player stats for today dream11 matches.
MAN last three match player stats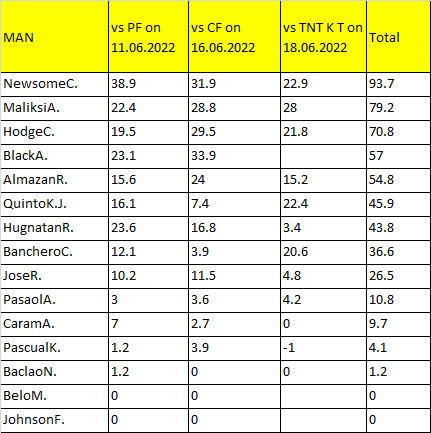 We have selected three players from MAN, C Banchero from Point Guard Position.He is the third best option in this position and will be a good choice with a credit score of just 8 in dream11 fantasy prediction app
The second player is A Maliksi from Small Forward position.He has been so consistent and has scored three 20+ scores in the last three matches
The third choice is R jose from Power Forward position
BB vs MAN Point-Guard last three match dream11 points
| | | | | |
| --- | --- | --- | --- | --- |
| Name | M1 | M2 | M3 | Total |
| BolickR. | 49.6 | 23.7 | 42.8 | 116.1 |
| SumangR. | 22.7 | 30 | 28.1 | 80.8 |
| QuintoK.J. | 16.1 | 7.4 | 22.4 | 45.9 |
| BancheroC. | 12.1 | 3.9 | 20.6 | 36.6 |
| TahaP. | 0 | 0 | 0 | 0 |
| JohnsonF. | 0 | 0 | | 0 |
BB vs MAN Shooting-Guard last three match dream11 points
| | | | | |
| --- | --- | --- | --- | --- |
| Name | M1 | M2 | M3 | Total |
| NewsomeC. | 38.9 | 31.9 | 22.9 | 93.7 |
| FerrerK. | 19.7 | 22.5 | 13.6 | 55.8 |
| BalanzaJ. | 5.6 | 8.7 | 11.9 | 26.2 |
| PasaolA. | 3 | 3.6 | 4.2 | 10.8 |
| CaramA. | 7 | 2.7 | 0 | 9.7 |
| SubidoR. | 0 | 0 | 0 | 0 |
BB vs MAN Small-Forward last three match dream11 points
| | | | | |
| --- | --- | --- | --- | --- |
| Name | M1 | M2 | M3 | Total |
| SantosA. | 24.4 | 40.9 | 32.6 | 97.9 |
| MaliksiA. | 22.4 | 28.8 | 28 | 79.2 |
| BlackA. | 23.1 | 33.9 | | 57 |
| delaCruzA. | 4 | 0 | 12.8 | 16.8 |
| BeloM. | 0 | 0 | | 0 |
| ApacibleJ.G. | 0 | 0 | -0.8 | -0.8 |
BB vs MAN Power-Forward last three match dream11 points
| | | | | |
| --- | --- | --- | --- | --- |
| Name | M1 | M2 | M3 | Total |
| HodgeC. | 19.5 | 29.5 | 21.8 | 70.8 |
| CalmaJ.M. | 23.8 | 20.6 | 13 | 57.4 |
| JoseR. | 10.2 | 11.5 | 4.8 | 26.5 |
| AyaayM.J. | 2 | 2.4 | 5 | 9.4 |
| PascualK. | 1.2 | 3.9 | -1 | 4.1 |
| CruzJ. | 0 | 0 | 0 | 0 |
BB vs MAN Centre last three match dream11 points
| | | | | |
| --- | --- | --- | --- | --- |
| Name | M1 | M2 | M3 | Total |
| MalonzoJ. | 48.7 | 38 | 40.6 | 127.3 |
| AlmazanR. | 15.6 | 24 | 15.2 | 54.8 |
| HugnatanR. | 23.6 | 16.8 | 3.4 | 43.8 |
| VigilL. | 2.4 | 6.5 | 0 | 8.9 |
| BaclaoN. | 1.2 | 0 | 0 | 1.2 |
| JavierC. | | 0.2 | 0 | 0.2 |
BB vs MAN Dream11 Match Prediction
PG- R Bolick, S Roi Sumang, C Banchero
SG- K Ferrer
SF- A Santos, A Maliksi
PF- R Jose
C- J Malonzo
BB vs MAN dream11 Star Player and Pro Player
Star Player- J Malonzo
Pro Player- R Bolick