The match 17 of Dream11 ECS T10 Stockholm between Alby Zalmi and Stockholm Titans is to be played today at 12:30 PM.
Match Date & Time: 20.05.2022 & 04:30 PM
Weather Analysis:
The match is to be played at Norsborg Cricket Ground, Stockholm. As per Weather.com there will be 100% cloud cover and light rain is expected during today's match between ALZ vs STI.
Pitch Report:
The pitch is mostly suited for bowlers and team bowling first have won 60 percent of the matches here.
Based on the last 5 matches average 1st Innings score at this venue is 88.
ALZ Batting Player stats
As you can clearly view from our gameplantoday's dream11 player analysis graph below that only three batsmen has scored 40+ runs in the last three matches.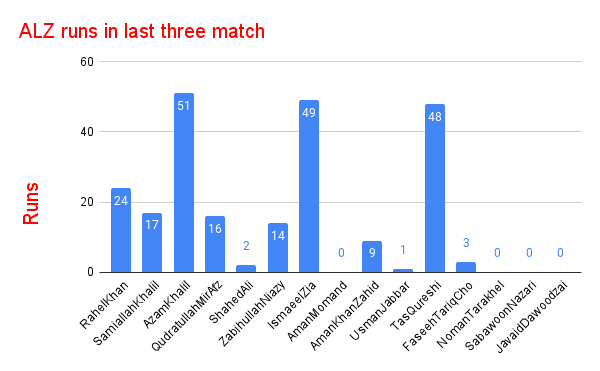 Azam Khalil batting at one down position has been leading run scorer for Alby Zalmi with 51 runs.
Tas Qureshi and Ismaeel Zia,the two openers for ALZ has been with 48 and 49 runs to their name in last three matches.
ALZ Bowling player stats
Javaid Dawoodzai is the leading the dream11 gameplantoday's ALZ bowling analysis graph with 3 wickets in just 2 games.
Other than that Tas Qureshi and Azam Khalil are two main bowlers for ALZ and was bowling two overs regularly in every match.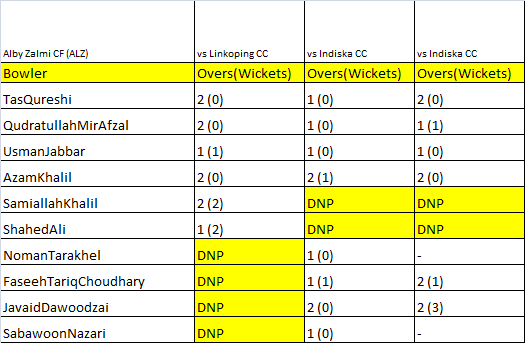 STI Batting player stats
Madhava Reddy Tigulla is leading the top scorers list for STI. The right handed one down batsmen has scored 80 runs in last three games alone.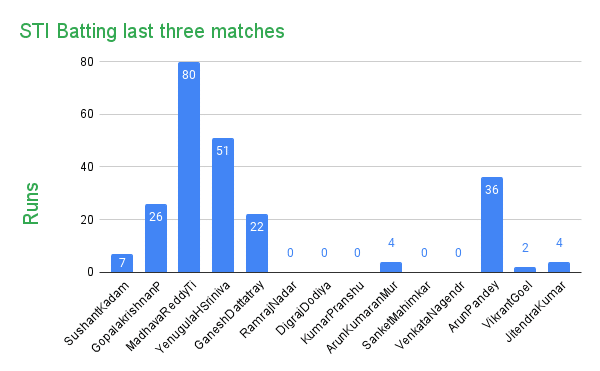 He also scored 52 runs batting as an opener against Indiska on 19th May 2022.
As you can clearly view form our Dream11 STI's batting stats image below that no other batsmen has scored any runs other that MR Tigulla for STI.
Yenugula H Srinivasa has been consistent with a bat and has scored two 51 runs in last three games combined.
Also Visit STI vs LKP match prediction for more player stats
STI Bowling Player stats
On Viewing our STI's bowling graph analysis, it is clearly coherent that STI's Bowling unit are struggling to take wickets.
Their bowlers have taken only seven wickets in last three matches.The main bowler for STI are Vikrant Goel and YenugulaHSriniva.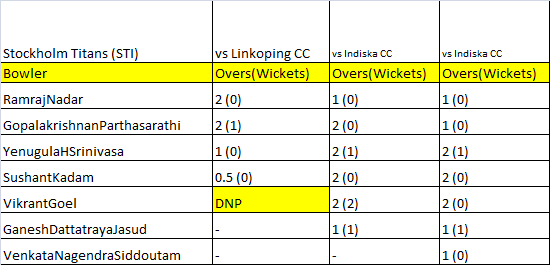 ALZ last 3 match Stats
Win , Win , Win
Alby Zalmi won by 1 runs.
Alby Zalmi won by 24 runs.
Alby Zalmi won by 7 wickets.
STI last 3 match stats
Loss, Loss , Loss
Linkoping CC won by 9 wickets.
Indiska CC won by 9 runs.
Indiska CC won by 10 runs.
Who will win today's T10 match between ALZ vs STI?
It is clearly evident that ALZ from last 3 match stats above that ALZ has won their last three games and unbeaten in the tournament with 6 wins
STI has lost all their last three previous matches in this tournament and are at the bottom of the table with 1 win and 5 losses.
ALZ are expected to win this match.
Gameplantoday Dream11 Team ALZ vs STI:
Wicketkeeper: I.Zia, M.Reddy Tigulla
Batsmen: A.Khalil , A. Pandey , G.Dattatraya Jasud
All Rounder: Y.H Srinivasa
Bowler: Q.Mir Afzal, U. Jabbar, T.Qureshi,J.Dawoodzai, G.Parthasarathi
ALZ vs STI Captain & Vice Captain Picks:
Captain: A.Khalil
Vice Captain: T.Qureshi